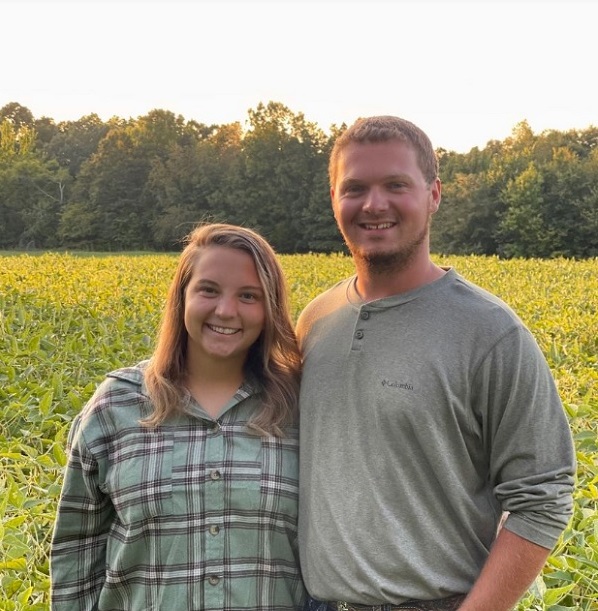 young selected as young leader of the KY Soybean Association | WPKY 103.3 FM
Catlin Young of Caldwell County has been selected as a Corteva Agriscience Young Leader of the American Soybean Association (ASA) of Kentucky.
Kentucky Soybean officials made the announcement Wednesday on social media and said the national program allows young soybean farmers across the country to come together for an empowering leadership experience. The Young Leaders program offers participants the opportunity to improve their leadership skills as well as meet and learn from other young leaders.
According to the message, the Young Leaders program is unique among the leadership opportunities that exist for soybean farmers because it is designed to include partners in the role of "significant other" in the training. Couples will attend sessions together so both sides understand the importance of helping to shape national policy and champion agriculture, and have the tools to do so.
The ad says Young grew soybeans on his own farm this year, in addition to helping out on his grandfather's Lively H farms. Young's partner, Aaron Vinson, works full-time on his grandfather's farm, while Young works at the University of Kentucky Research and Education Center at Princeton. She graduated from the Hutson School of Agriculture at Murray State University with a degree in Agriscience/Agribusiness.
In addition to soybeans, Young would have a flock of sheep. She has owned her farm for just over a year and says she has already registered with Caldwell County EQUIP and uses several best management practices including cover crops, non- ploughing, pasture management, a pipeline for livestock watering, and planting pollinator habitats.
As part of Young's status as an ASA Corteva Agriscience Young Leader of Kentucky, she will serve as an ex-officio member of the Kentucky Soybean Association Board of Directors.
Officials say the Young Leader duties begin in late November when the pair travel to Johnston, Iowa, Corteva's headquarters, for the first part of a two-part training session. Part two will take place in March at the Commodity Classic in Orlando, Florida, which is the annual meeting of the American Soybean Association, National Corn Growers Association, National Association of Wheat Growers and National Sorghum Producers.