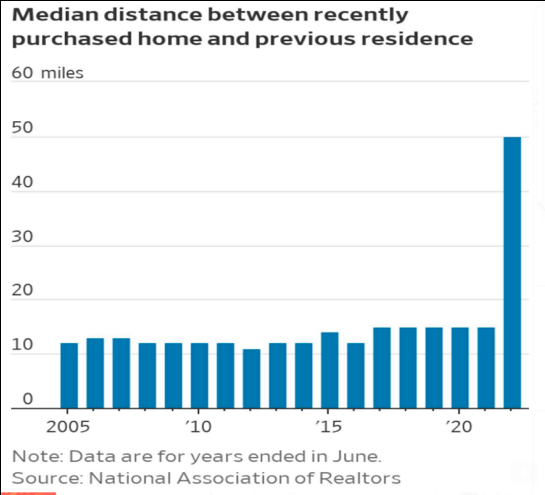 What does today's home buyer look like?
Here are 3 stats on this year's real estate buyers that we're going to focus on today (source: National Association of REALTORS):
50 miles
50 Miles is the median distance between the home recently purchased by buyers and the previous residence.
The range before 2021 was 10 to 15 miles. Wow.
96% online
Almost all buyers used online tools in the research process, at almost 96%.
4 out of 5 only online
Buyers looked at a median of 5 homes and viewed 4 homes online.
So what does this data tell us?
Habits change and they change quickly. This week's data comes from our review of the National Association of Realtors' latest survey. I wanted to better understand the direction of real estate because it remains an industry full of friction. This friction is a problem, and problems are meant to be solved.
A remarkable statistic was the distance between the purchased home and the previous residence. Since 2005, the distance has varied from 10 to 15 miles, but it has jumped to 60 miles this year! It is a significant change.
This change is probably due to several factors. Here are some thoughts on this:
1. More hybrid work allows employees to live further away from a physical workplace. This will probably lead to a greater reliance on collaborative work tools.
2. Sellers take advantage of prices. Higher prices and an aging seller induce sellers to move to lower priced areas as price arbitrage. Here is another statistic. The typical home seller was 60, up from 56 last year.
The other two statistics mentioned highlight the opportunity as buyers and sellers continue to embrace digital tools to guide their real estate journey. As these tools improve, more deal activity is likely to happen digitally (i.e. rounds, fundraising, closing).
Twitter: @_SeanDavid
The author or his company may have positions in the titles mentioned at the time of publication. Any opinions expressed herein are solely those of the author and in no way represent the views or opinions of any other person or entity.