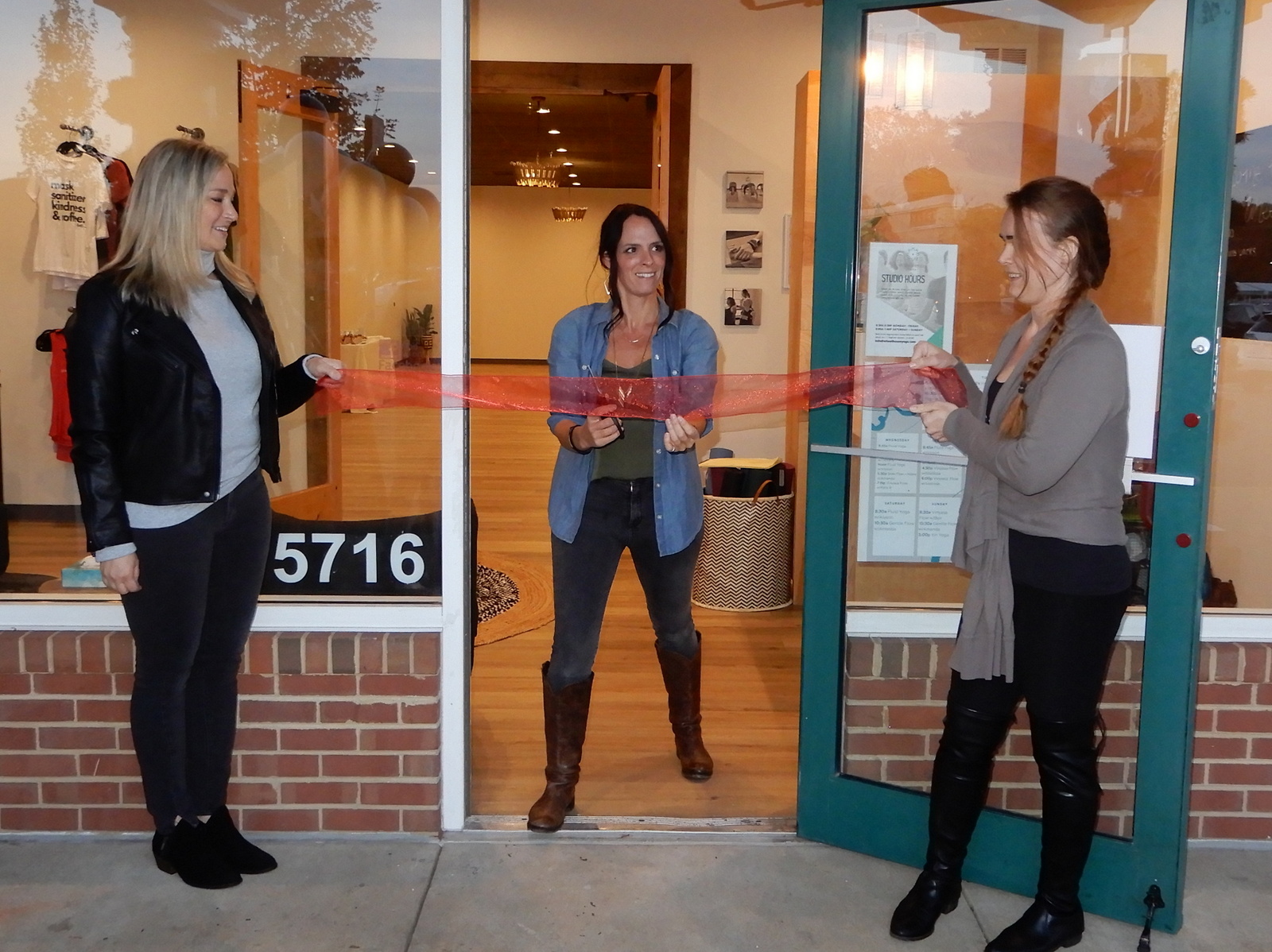 "Warm, welcoming – you basically do yoga with friends" at Clifton
"Warm, welcoming – you basically do yoga with friends"
WheelHouse's new studio is in the Colonnade at Union Mill.
By Bonnie Hobbs
The connection
After six successful years in the town of Clifton, WheelHouse Yoga – like many businesses – had to close during the pandemic. But it recently reopened in a new location in the Colonnade of the Union Mill shopping center – and its enthusiastic clientele has followed.
"I've been coming to WheelHouse since it opened in Clifton [in 2015]said student Sam Nhan of Little Rocky Run. "I love the community and have met a lot of wonderful people. They are always warm and welcoming, and we all care about each other. It's more personal than a lot of big gyms, and you're basically doing yoga with friends.
Wheelhouse is now at 5716 Union Mill Road, between Manhattan Bagel and District Eatz. Although geographically in Centreville, it bears the postcode of Clifton; so, said owner Alyson Pollard, "It's still Clifton and our community. But we are open to many more people here. We have a huge area to tap into, so we can grow.
The yoga studio is open seven days a week from 8 a.m. to 7 p.m. It has 10 instructors and offers 27 classes throughout the week. (For more information, visit www.wheelhouseyoga.com).
"It's for all ages and abilities of yoga students," Pollard said. "We have everything from gentle, restorative classes to powerful, sweaty vinyasa yoga."
Even during the pandemic, she kept the business going by offering online yoga classes that students could take from home. And, Pollard said, "People who continued their practice saw it become so much more than just training. It was about camaraderie, compassion, and emotional and mental support — individually and for each other. .
With a "very strong student base that numbers in the hundreds," Pollard said what sets WheelHouse apart from other yoga studios is that "we really try to go beyond just physical training. . We also offer 'sangha' – which in Sanskrit translates to 'like-minded community'. Our goal is to encourage people not to compare themselves to other students, but to be completely open to each other and to themselves.
Regarding the new location, she said, "The other businesses here were thrilled to see us in. And we have a synergy with them – a rising tide lifts all ships."
So how did she come up with the name of the studio? "When we opened in 2015 and talked about our offerings, we kept saying, 'It's in our wheelhouse,'" Pollard explained. "It's also where a captain would stand to steer a ship, and where a baseball batter wants to be pitched. And it became this great, successful and powerful term.
She said the move to the new space has been underway since March 2021. And, she added, "For me, a lesson of the pandemic has been patience, and we've incorporated that into our teachings. " Still, after the ribbon cutting, Pollard said, "It feels so good to finally open, and the turnout tonight is extremely reassuring."
Among the approximately 65 people in attendance was Rebecca Seyferth from the Compton Village community of Centreville. She started as a student at WheelHouse in 2016. "I love the incredible sense of community," she said. "Everyone was so friendly, welcoming and supportive – especially when I was going through a very stressful time. I think Alyson knew what I needed before me.
"Yoga relaxes me, but also keeps me from getting upset and reminds me to be grateful," Seyferth continued. "Yoga meets you where you are; everyone has a different level of expertise. It's not competitive, and whatever class you take is the right one for you. All the teachers adapt the lessons for everyone.
Jaely Turner attends classes there and has also been a yoga teacher at WheelHouse since 2018. "I tend to teach soft, yin, slow-flow type classes more, as well as postnatal yoga," she said. . "I guide students through a set of poses, tune them to their own bodies, and reduce the noise in their heads and bodies for them.
"Reconnecting with their bodies is especially important for postnatal students. I help them to be present and I create a community around her.
Turner also likes the "strong, communal aspect" of WheelHouse. "When I come here, even as a student, I feel drawn to stay and visit others," she said.
She and Shelly Young, from Hayden Village, trained as teachers there. Young was a student at WheelHouse for three years, becoming an instructor in 2019-20. "We are all trained in the flowing lineage of yoga by the same teachers," she said. "So we have a consistent sequence of elements that we follow. But we all incorporate our own style and pace, so we can get creative in the classes.
Regarding the new location, Young said, "I love it. When I saw where it was, I thought, 'I'm home.' And the space is a calm and peaceful environment – ​​the ideal condition for mindfulness and yoga meditation.
Classes vary from individual, private lessons up to 50 people, with an average of 25 per class. "And we offer different types of classes that you won't find anywhere else," Young said. "For example, on Friday evenings at 5:30 p.m., I teach a yoga spa class with practical aids, for an experience that awakens all the senses."
Nhan also praised Pollard. "Alyson is a wonderful person, business owner and friend, and an amazing and gifted teacher," she said. "One way or another, we always connect. And its lessons hit you right in the heart. In yoga, your mind is more open and I learned a lot from her.
"Coming to his classes makes me want to go further. And for those of us who love yoga, it is now part of our lives and our souls. It's something I can do, and I still get a good workout and that same high exercise that a runner would get – I love it.