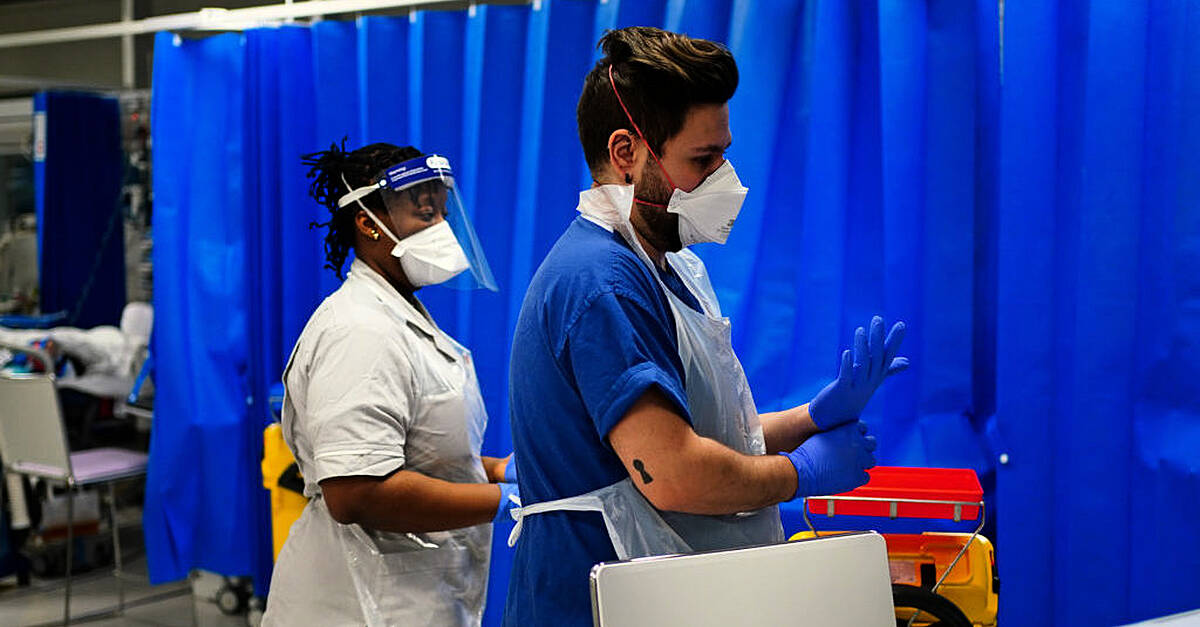 Sinn Féin and Alliance welcome plan to overhaul hospital services in the North
Sinn Féin and the Alliance Party have widely welcomed a major plan to overhaul the way hospital services will be provided across Northern Ireland in the future.
The plan, due to be released in the fall, will be an important step towards reconfiguring the region's under-pressure health service, according to Northern Health Minister Robin Swann.
Sinn Féin MLA Colm Gildernew said his party supported the need to maintain and develop "world-class health services" in the North.
Describing it as a "crucial journey", Mr Gildernew said his party would delve into the details of how the plan would work.
The Stormont executive has previously backed reform plans that include a restructuring of the hospital network, with a focus on creating centers to deliver key specialties.
Northern Ireland has the longest hospital waiting lists in the UK and experts have warned that current structures are unsustainable.
"We welcome the fact that the minister recently invited us to the meeting to discuss the launch of this document," Mr Gildernew told the BBC's Sunday Politics programme.
"We look forward to working out the details of how this will develop and the details will be important.
"There has been an indication that the Transformation Advisory Council will be put in place. Joining this group will be crucial to seeing the right people in the discussion and for everyone to be involved in what is one of the most crucial decisions we will have to make here in this society.
Mr Gildernew said the recommendations for the North's health service, as set out in the Bengoa review, indicate the region needs an "equitable and sustainable system".
"We absolutely support that and will actively participate in that discussion," Gildernew added.
"What we need to see is that this discussion turns from a loss to an opportunity.
"We need to engage with our communities, with health leaders, with staff representatives, we need to see how we're going to improve health outcomes for all of our people and address health inequities. "
"ambitious" project
Alliance Party MP Paula Bradshaw said the health plan needed to be "bold and ambitious".
"We believe this is long overdue. The minister has now ordered a number of reviews which will be key to getting things like reduction of agencies, access to GPs, reviews of general surgery," she added.
"All boxes are checked in this initial statement, but we have a follow-up meeting in three weeks, and we hope there will be more information in the future.
"What is really crucial and really different from the Bengoa process is that this new advisory council is about improving and transforming health services, because there is no need to reconfigure hospital services at different sites.
"We need to make sure the clinicians, the senior leaders in our health trust, have direct input into how we improve the service. Because only then will we improve health outcomes.
"But there is a second part of this. It was recognized last week that the health service alone, the health department alone, cannot solve all the problems.
"We need our executive to be operational. All government departments are responsible for the health and welfare of their people, and we need to get the executive back in place and the approved budget working so that we can move these projects forward.
Last week, Mr Swann said the plan would be developed with advice and input from a new advisory council on improving and transforming health and social care.
"We need to change and reform our way of providing services in order to provide a better health service," said the minister. "Without change, we will simply condemn patients and staff to more of the same."