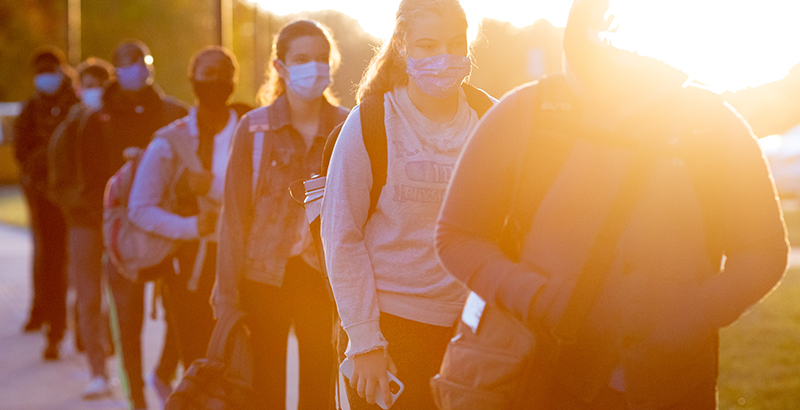 MacPhee: How Teachers and Parents Can Support Student Mental Health When Returning to Class In-Person and Beyond
Get essential education information and commentary delivered straight to your inbox. register here for the daily 74's newsletter.
For many young people, going back to school has not been easy – and it comes at a time when rates of depression, anxiety and substance abuse have increased dramatically. The consequences can be felt by young people and their communities for years to come. Profound and lasting effects on mental health will disproportionately impact young people with pre-existing mental health issues, those from marginalized communities or of color, and those who lack supportive social networks. Teens and young adults who found online learning exceptionally difficult, or who relied on educational support disrupted by the pandemic, may return to the classroom with significant educational gaps. In particular, young people from families where abuse was occurring have found themselves without essential support services and will likely need deep support and connection when they return to their studies in person.
In light of these challenges, educators should consider the following as they prepare to support adolescent and young adult mental health as they return to the classroom:
Prepare for a different educational landscape. Learning was compromised last year for many students. Educators should be prepared for young people to face difficulties in basic areas, such as their social skills, ability to concentrate, comfort, ability to retain information or basic performance in the classroom. It will take time and coaching to rebuild the skills that adolescents and young adults need and use on a regular basis. Educators need to be patient and set realistic expectations for students this school year. As is often the case at the start of a long period away from friends and routines, the excitement and enthusiasm can mask vulnerabilities and challenges that have not yet surfaced. Make sure you maintain a personal connection with the youngsters and watch for signs of a struggle over the weeks and months. Last year's mental health impact was not just related to the COVID-19 pandemic; the racial trauma suffered as a result of George Floyd's murder has brought about a painful and long-standing anger, despair and frustration. A return to pre-pandemic systemic racism is not only undesirable, but unethical. Schools, organizations that serve young people, workplaces and businesses are all tasked with absorbing the lessons of the past year and creating culturally appropriate environments focused on equity and inclusion. As this conversation begins, in many ways, on a broader social level, it is imperative to create space for continued exploration, expression and healing.
Expect emotional, social, and mental health needs. Some students – even those who didn't have a hard time before COVID-19 – may find the return to class overwhelming. Educators need to recognize the impact of the past year and plan for a slow return to in-person learning, allowing more time to assess and respond to student preparation and support needs. Educators need to find ways to connect with all young people through informal channels or by administering brief mental health assessments and connecting to treatment when needed; wider impacts of the family pandemic; and / or the state of learning and preparation. All faculty and staff should learn to recognize when students are having difficulty and know how to reach out to offer support, as well as know where to refer students for professional help, when needed. Expectations of learning, focus, and sustained attention should be kept to a minimum until it is clear that the pace can pick up. Staff will need to know how to create and maintain trauma-informed support, or recognize the presence of trauma and recognize the role it can play in a student's life. There may be a greater need for school lunch programs, as some families may face ongoing financial hardship, and after-school programs to increase childcare hours for parents taking on new jobs or jobs. additional.
Create opportunities for young people to process and understand their experience. Educators should create dedicated time and space to help students sort through their experiences. Using techniques such as journaling, talking circles, culturally grounded rituals and healing, artistic expression, body movement, and interactive group and / or self-reflection activities, students can review and understand what they went through, identify glimmers of hope and hope for the future – some of which may have changed since before the pandemic.
Parents and guardians can help support their children's mental health when they return to face-to-face classes by considering the following:
Check in with your child regularly. It is important to be calm and engage in conversations with your child. Children's emotions will change regularly, and you need to show them that it's okay. Set a regular schedule to talk only about how they feel, and ask questions to assess their social, emotional, and mental health status and needs.
Focus on strengthening connectivity. Connectivity is essential for mental health, and young people's desire for social connection is likely to be high. At the same time, they may feel uncomfortable or uncomfortable in a school environment surrounded by people and lots of activities. Allow space and time for your child to reconnect with other young people outside of school.
Keep the things that worked. Teletherapy, distance learning and working, as well as new strategies to establish and maintain work-home balance are important to continue, even as the pandemic subsides. Parents should take the time to assess what has worked in their family and which systems are worth keeping.
If you feel like the past 17 months have been incredibly difficult, think about how young adults, with less experience dealing with challenges and adversity, are doing. Adults must recognize the depth of the pandemic's impact on adolescents and young adults and recognize that their needs have changed. Returning to class can be an opportunity to re-imagine and better support children, preparing them for good mental health and well-being that will serve them as they move towards a better future.
Children deserve a first-rate education; and the public deserves top notch reporting on it.
Thank you for supporting our journalism.
John MacPhee is Managing Director and CEO of The Jed Foundation, a nonprofit organization that protects emotional health and prevents suicide among teens and young adults.
Related
Subscribe to the 74 newsletter
Send letter to editor