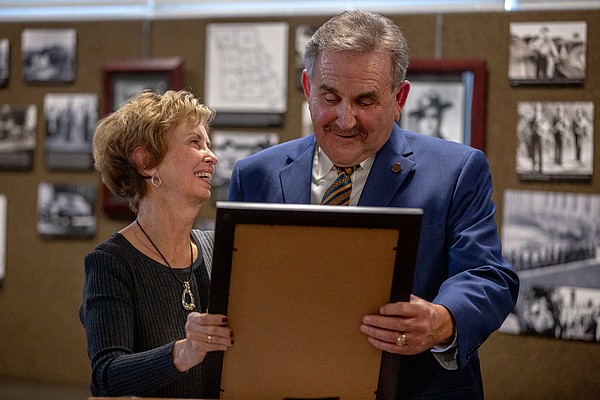 Highway Patrol honors former head of family support organization
[ad_1]
The Missouri Highway Patrol honored the longtime leader of an organization that helps families of fallen soldiers with a special place in the Patrol Museum.
In a ceremony Thursday afternoon at East Elm Street headquarters, current and former patrol members celebrated the unveiling of a plaque honoring Elaine Libla for her contributions to the Missouri Association of State Troopers Emergency Relief Society (MASTERS).
MASTERS is a non-profit organization that provides financial assistance to the immediate family members of any Patrol member killed in the line of duty.
In 1979, a group of businessmen from St. Louis and Jefferson City met with then-Colonel Alvin R. Lubker about their vision to create a non-profit organization that would support families. fallen soldiers. With so-Gov. Supporting Joe Teasdale, MASTERS was created.
Since the formation of MASTERS in 1979, the patrol has experienced 21 fatalities in the line of duty. There have been 31 patrol members in total who have died in the line of duty during the organization's 90-year history.
In 1988, Libla became secretary of MASTERS. This post was later reclassified as General Manager. She retired in 2019.
Patrol Superintendent Col. Eric Olson said every year in December that they honor fallen soldiers and think it is a good time to also recognize Libla and MASTERS.
"Their goal started out at 600 memberships and today that number is over 1,600," said Olson. "It's hard for me to put into words what MASTERS means for the patrol. "
Olson said the word "modest" best describes Libla and recounted how she worked to help the family of a fallen soldier.
"Elaine called me while she was working with a young man who was going to college," Olson said. "He was the son of a fallen soldier and he had problems with financial aid in college. She called me and we had a soldier in the area where the young man was to come and help her. It struck me that there had been 16 fallen soldiers since Elaine started, and I knew those soldiers' business was being done. But staying in touch and showing compassion to these families for 10 to 20 years – that story has stuck with me. "
Governor Mike Parson was there and said he too had worked with Libla over the years and didn't know anyone more humble than her.
"A plaque on the wall is one thing, but it's the heart that makes the difference in people's lives," Parson said. "When I think of an official, you can take away sheriff, legislator, you can take any titles you want. A public servant is someone who gives for others whom he will never know, never meet or see. They just want to make things better for people, and that's what MASTERS did and what Elaine decided to do when she started.
Underneath the plaque honoring Libla is an engraved statement from the President of MASTERS and retired MSHP Colonel Fred Mills.
"Her kindness and effective guidance have shaped the organization for 31 years. During the darkest times, when tragedy struck a member of the Missouri Highway Patrol, Elaine was the heart and soul of how the MASTERS helped each of these families. Without a doubt, Elaine left the MASTERS better than when she found it.
"It wasn't like a job at all," Libla said in a statement of thanks. "It was my joy and my honor to support the patrol."
Olson closed the ceremony by telling the rally to walk past the wall in honor of the 31 soldiers who died on duty before returning home every evening.
"There are four rows and when I close my eyes I can see a row of eight, a second row of eight, a third row of eight and on the fourth row there are seven and there is a blank space. at the end of that row. Olson said. "It is the white dot that makes me reflect on the support we have in this state and the great work of the MASTERS knowing that although we hope and pray there is still a white dot in this row, history indicates that this may not be the case. Having the MASTERS is very reassuring for the patrol.
[ad_2]