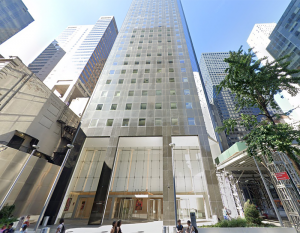 Durst organization secures new leases at Manhattan Tower
The Durst Organization landed a new lease and a lease extension for its 1155 Avenue of the Americas office building located in the heart of New York's Midtown submarket.
US Equity Investment Life signed a 10-year lease for 17,246 square feet on the 35th floor of the office tower, which will be the life insurance company's first office in the city. Robert W. Baird & Co. also signed a 12-year lease for an additional 17,246 square feet on the 36th floor of 1155 Avenue of the Americas. The financial services company already had a previous lease for another full floor of the property that was signed in 2017, but the new lease more than doubles its square footage at 1155 Avenue of the Americas.
---
READ ALSO: Space, commuting, location: reassessing office markets
---
US Equities was represented by JLLof Donald Preate, while Baird was represented by Henry Warner and Williams Korchak of JLL. Durst was represented internally by Tom Bow, Rocco Romeo and Tanya Grimaldo for both transactions, while Lauren Ferrentino also worked on Baird's lease.
The 42-story office tower totals 790,000 square feet and includes floors between 16,000 and 30,000 square feet. The property was built in 1984 and designed by Emery Roth & Sons. In 2017, Durst completed a $130 million capital improvement plan, transforming 1155 Avenue of the Americas into a Class A property.
According to Durst, the improvements included a new lobby and plaza, new elevator cabs, new windows, and improved floor-to-ceiling glass. The office tower also earned LEED v4 Gold certification under the Existing Building Operations Maintenance Rating System, becoming the first building in New York City to receive this certification, according to Durst.
Many long-term leases in Manhattan
Jonathan Durst, president of The Durst Organization, said in prepared remarks that the leases with American Equity and Baird were proof that New York was the financial capital of the world and the inherent strength of its office market. Many other industry experts also expect a strong year for New York's commercial sector, with more leases from tech companies and continued demand from overseas investors.
According to Durst, more than 200,000 square feet of deals have been signed in the past 12 months at 1155 Avenue of the Americas. Last March, law firm Jenner and Block signed a 15-year lease for approximately 67,000 square feet in the office tower. Other tenants at 1155 Avenue of the Americas include Cornell University, Verizon, Genpact, South Street Securities, Knobbe Martens and Coie Perkinswhich signed a 15-year lease in July 2018.
Besides 1155 Avenue of the Americas, Durst's Manhattan office portfolio totals 13 million square feet, with most located in the city's Midtown submarket. The company also owns 151 W. 42nd St, located a few blocks from 1155 Avenue of the Americas. In July, Durst signed a 10-year lease with a consulting firm Vidaris for the 24th floor of its high-rise office tower on West 42nd Street.